Accommodation, Cabanes, Roulot, Yurt dans le Puy-de-Dôme
Add to my travel notebook
Register your touristic spot dans le Puy-de-Dôme it's free (in French)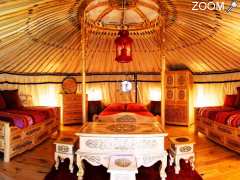 TVORG-722721
Update informations
High season of 45€ to 65€

Breakfast of 5 to 7 €

Restaurant Menu of 20 to 28 €



Disponibilités
Cormier Marc
Sichard
63660 Saint-Anthème (Puy-de-Dôme)
Phone : 04 73 95 82 98
- Mobile phone : 06 75 50 31 41

http://www.eco-yourte-les-airelles.com

http://www.facebook.com/pages/Jasserie-Les-Airelles-Chambres-Tables-dH%C3%B4tes-Eco-Bio/288629121160962?sk=info
Come spend a night fairy and unforgettable in a real Mongolian Yurt, culmination of a knowledge Millennium, symbol of stability and harmony. Come and enjoy the comfort of this habitat nomadic in the heart of the Hautes Chaumes on the Monts du Forez, in a natural setting, quiet and green (the Livrazdois Forez Regional Park).
Our yurt is furnished and decorated in the respect of tradition.
It can accommodate up to 4 people the yurt is the famous traditional Mongolian felt habitat. Made of wool, wood, leather and FIR it is the symbol of the adaptation of the nomads in a particularly hostile environment. Its friendly shape, reassures and calms. She just withstand the worst storms; cool in summer, cosy in winter, it disassembles in moments to be back a little later. It is an enclosed space that breathes freedom. The yurt that we offer is strictly the same as those purchased by Mongolian nomads. The yurt includes the following elements: a door, 5 walls, two poles, Poles, a Crown Central, the strings in horsehair braided handmade, a cotton canvas, a thickness of 10 mm wool felt, a decorated waterproof canvas, a square of roof, and a decorated band covering the bottom of the yurt. It is fully equipped traditional Mongolian furniture, summer a garden table with a barbecues are at your disposal. The breakfast you are brought to your yurt if you the desired. For the moment, it is impossible to cook in the yurt, however we can deliver meals under the yurt or you can come and taste our speciality here.
With its cylindrical shape and its flexible frame, it can withstand the most violent storms.
Completely assembled or disassembled in 1/2 day, and easily transportable, the "ger" (Mongolian term) is the habitat of freedom!
As is the case for many of the tents, the yurt is an image of the world: the roof represents the sky, the smokehole where falls light, the Sun, or the celestial eye.
The home is sacred, the Mongols never leave the fire to go out, because it houses for them, the household gods protecting the tent and the family.
The door is always oriented opposite to the winds "for welcoming as friends'. Our yurt is also permanently heated so that moisture does not install!

Register your touristic spot dans le Puy-de-Dôme it's free (in French)