Accommodation, Lodges and group dans le Puy-de-Dôme
Add to my travel notebook
Register your touristic spot dans le Puy-de-Dôme it's free (in French)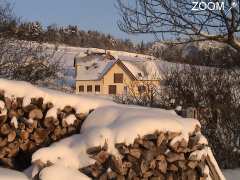 TVORG-728491
Update informations




Disponibilités
LEPLAT Sophie
10 impasse du Pailloux 63500 Issoire
63610 Besse-et-Saint-Anastaise (Puy-de-Dôme)

http://buron-besse.org/
Cottage for Group located in the Park of the VOLCANOS of AUVERGNE, on the massif du SANCY, near the station of SUPER BESSE winter sports.
Altitude: 950 m. capacity: currently, 14 people.
Rental in self-management, overnight, weekend, week.
Possibility of restoration at the request.
Equipment: Large living Lounge can accommodate easily 14 guests.
2 bathrooms with shower, 3 toilets (WATER CLOSED) 3 bedrooms: 7 + 5 + 2 beds in 1 place.
Kitchen at disposal.
Activities: cycling, cycling, mountain biking, hiking, skiing, snowshoes. Opportunities for internships or and coaching: cycling, mountain biking, knowledge of plants with botanist and naturopath year-round.

Register your touristic spot dans le Puy-de-Dôme it's free (in French)