Accommodation, Lodges and group dans le Cantal
Add to my travel notebook
Register your touristic spot dans le Cantal it's free (in French)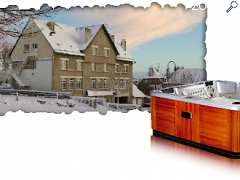 TVORG-725191
Update informations
Half board of 22 to 26.5 €

full board of 27 to 32.5 €







Disponibilités
Isabelle & Philippe BARBE LERIGET
Le Bourg
15110 Lieutadès (Cantal)

http://www.LesColchiques.fr

http://www.facebook.com/pages/Gite-de-Groupe-Les-Colchiques/205760622783979
Located in the heart of the Massif Central in Auvergne, the Colchiques is a large cottage, 43 places, open throughout the year.
Depending on the season you will be offered many activities: hiking, cross-country skiing, skiing, snowshoeing, luge, mountain biking, swimming in the Lakes, fishing,... always in an exceptional environment: Aubrac.
We also offer trips to theme: sports, heritage, wildlife and flora, discovery weekend snow, stay cinema, painting, land s...
Register your touristic spot dans le Cantal it's free (in French)